A charming complex of three properties
Perched above the Dordogne, in the small hamlet of Le Pech at Beynac this complex has magnificent views. Though secluded, it just catches the sound of the bells of Chateau Beynac.
Sleeping 10 plus 4 children in the Cottage and Grange, it is nestled around an attractive and secluded heated pool.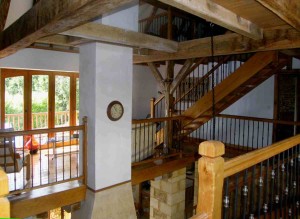 La Grange or Barn (sleeping 4 in en-suite bedrooms plus beds for 2 children)
A traditional Perigord barn, stone and oak dating from 1760. Rescued in 2002, as a maison désaffectéee, it has been restored with fully modern utilities and décor, while cherishing its heritage. The enormous Grange, a grand design project, was supervised by noted Sarlat architect Patrick Bonnefon with families and friends contributing. The grand scale open plan has spectacular vistas, balconies and open staircases.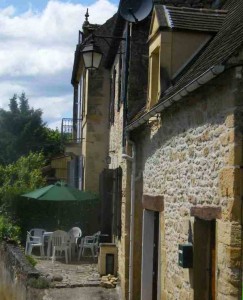 La Cottage (sleeping 6 plus 2 children)
A traditional long house, of unknown age, on the old path to Chateau Beynac. Deceptively large, it seems to go on and on… and on! Very French, but now very well provisioned with bathrooms and toilets!
La Petite Maison (sleeping 2)
The manager's traditional house for the Fermette, 1760. Now accommodating just two – but in style! There's a large living room with dining table, a beautiful en-suite bedroom and a farm style kitchen below. It leads into the cave and wine cellar.