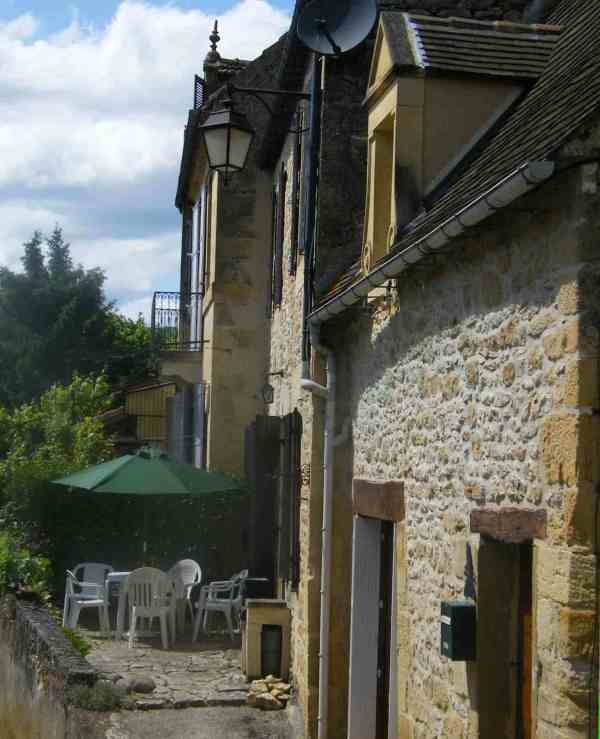 Bedrooms
Mid level. Two double bedrooms, one with view of the Dordogne and one with full sized bunk beds. Both bedrooms are close to a spacious beamed bathroom with bath, shower, two washbasins, WC and radiator.
Comble (loft) suite
Overlooking both the Dordogne (with perhaps the best view) and the pool, it has a large double bed, seating, table and washbasin; there's an en-suite shower room, with basin, shower, WC and radiators. This suite also has a beamed mezzanine and gallery – a great play area or 'camping' for kids!
Kitchen, lower level, opening to small terrace
Cooker with gas hob, electric oven, butler's sink, microwave and convection/grill, fridge/freezer, wood stove, full range of utensils, crockery and glasses, breakfast table and radiator.
Lounge
Comfortable chairs; TV with DVD; large oak dining table; radiator.
Atelier
For storage and outside access and to the washroom at lower level.
Laundry room (bouanderie)
Washer, sink and clothes airer, outside access.
Study and more
Desk and bookcase, WiFi router for house, free internet and radiator. Off this room is a shower, washbasin and WC.
Terrace
Table with parasol, to the South, seating 6; BBQ, gas or charcoal fired.
To the North, access to pool area at mid level onto paved surround.
La Cottage gallery