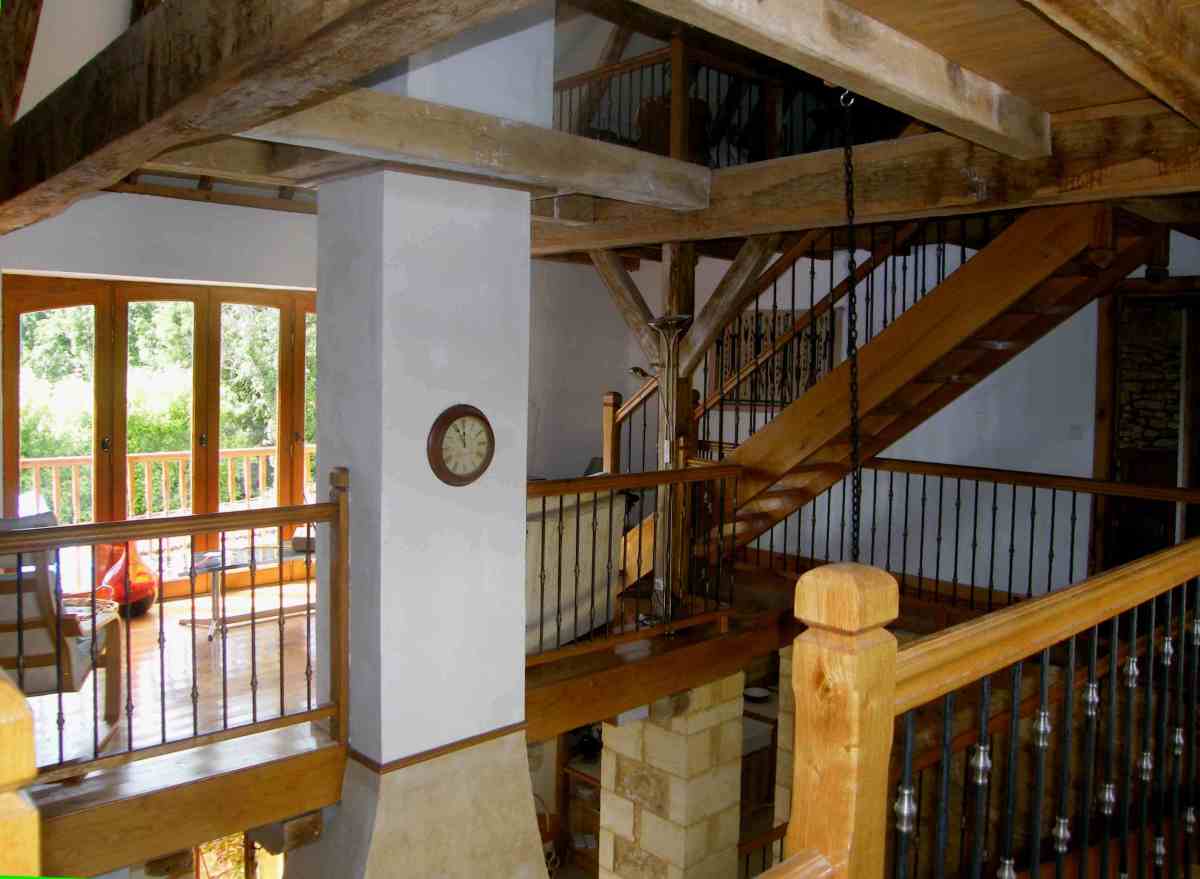 Ground floor
Atelier
Housing a fridge for beer/wine/drinks; there is also an icemaker nearby.
Shower room
Convenient for pool use and outside activities; there is a shower and WC close to the main entrance.
Dining area
Large oak table seating up to 12 and grand wood-fired open fireplace; large double doors opening on to the court and two staircases to mid-level bedrooms and sun lounge. Above there are galleries from two levels.
Kitchen
Farm style oak units, double butler sink, microwave, dishwasher, fridge/freezer, large oak breakfast table seating up to 8, cooker (electric with gas hob) and a wood-fired bread oven. Plentiful range of utensils, crockery, glassware. Doors open on to a small paved area with table and parasol.
First floor
Sun lounge
Overlooking the Dordogne valley to the West and also a gallery overlooking the dining area below. It has a range of comfortable chairs, an audio system, ceiling mounted overhead projector and 2 metre pull-down screen for DVD films or presentations from your PC/laptop. We like the sun lounge for G and Ts! It leads via ballustraded galleries to the two main en-suite double bedrooms.
Please note: the Grange has WiFi, digital projector and music keyboard but is graced by no TV!
Bedrooms
North and South bedrooms: at mid level, they are identical in facilities. The South, overlooking the pool, has the sun in Summer. There is a double bed and en-suite shower room with WC, wash basin and radiators. The North bedroom also has double bed and en-suite shower room with WC, wash basin and radiators.
Top bedroom, the Comble
Open plan over the entire length of Grange, the gallery overlooks the two lower floors. There's a good play area for children and two single day beds; sleeping is fun for children! A music centre with keyboard and a library offering light reading of Tony's Astrophysics tomes – or Dixon's detective novels.
Outside areas – at the Fermette or river
Terrace
Serving both the Grange and Petite Maison, it has large gas fired BBQ with rotisserie, table and parasol.
Pool area
A swimming area of some 6.5 metres square with curved steps: rail for children's access, a shallow area and a deep area suitable for diving. There is underwater lighting and a powerful flow system for endless swimming; steps from the deep end (1.8m). Poolside table, chairs and parasol and Sunbeds.
Court
Parking for several cars, floodlight for evening petanque or table tennis on the all-weather table. Take your own balls, they get trodden on!
Petanque
Athough there is no formal petanque court meeting the strict French specifications, and cars might have to be shuffled a little, there are petanque balls for good fun and the gravel surface is very acceptable. There's a copy of the rules too!
La Grange gallery